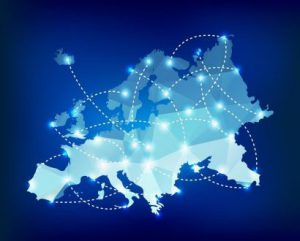 Virtual EReg/EUCARIS Academy on the Single Digital Gateway:
On 23 February 2021 the first virtual Academy on the Single Digital Gateway (SDG) took place. It was a collaboration between EUCARIS and EReg. More than 50 participants from 24 countries attended the meeting.
Speakers during this event were the European Commission (Ms Hettel Varik, DG GROW), the Federal Government Service for Policy and Support in Belgium (Mr Pieter Vanhoutgem, FOD BOSA), the Netherlands Vehicle and Driver Registration Authority (Ms Daniëlle Vogel, RDW) and EUCARIS (Mr Roelof de Graaf, EUCARIS Manager Operations). The audience got informed about the impact of the SDG Regulation and the 'Once-Only' principle on the registration authorities and the re-registration procedure.
The SDG will facilitate online access to information, administrative procedures and assistance services that citizens and businesses need to get active in another EU country. By the end of 2023 at the latest, citizens should be able to perform a number of procedures in all EU Member States without any physical paperwork. One of these procedures will be the re-registration of a vehicle.
An important aspect of the implementation of the SDG is the 'Once-Only' principle. The Once-Only Principle (OOP) will enable public entities to share citizen data with each other, so that people using any public services only have to enter their information once. OOP will enable public administrations in a Member State to use information that citizens or businesses provided in another Member State, thus facilitating online procedures across borders. At the moment the European Commission is working on an Implementing Act for OOP.
If you would like to have any additional information about this event, you can contact the EReg or EUCARIS Secretariat.